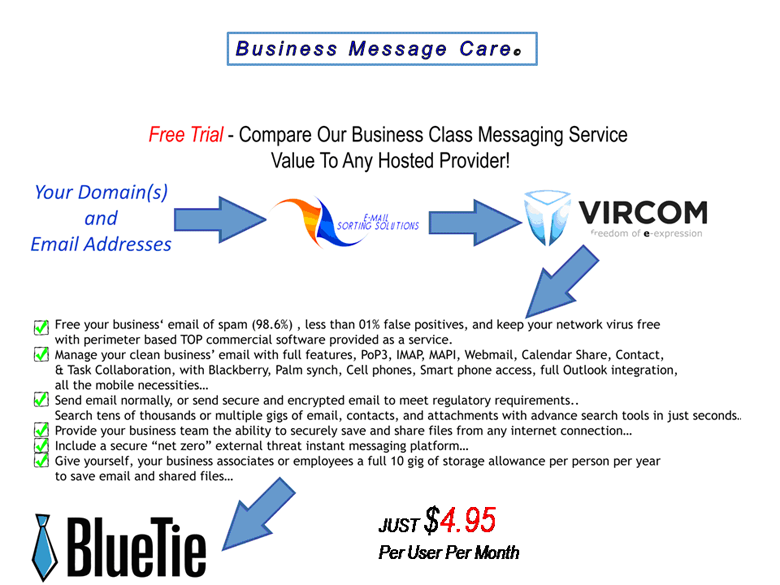 ODDS®BMC is our streamlined on-demand business class messaging solution that manages email, instant messaging, message share, and message storage for one low, per-user price.

It's Easy to Get started
Our full-featured ODDS® BMC - replaces the complex and costly endeavor of implementing a complete messaging security with full functionality at your business.
With BMC, you can deploy our low cost services within minutes and start enjoying enterprise-level features at prices you can't duplicate per person internally.
BMC Data Sheet

Email Hosting - We host your email on our powerful network of redundant servers in a fully secured data center.
Email Filtering - Your email arrives on time after being scanned with top commercial spam and Anti-virus software.
Web Filtering - In addition to our robust email filter, ODDS® BMC offers optional  enterprise Internet filtering.
Secure IM – Internal Instant messaging between peers, set groups, enterprise wide.
Shared Calendar - No excuses to ever miss a meeting, our shared calendar can be accessed by anyone with a Web browser no matter where they are.  
Mobile Synchronization - Employees can easily synchronize their calendars, contacts and email with Blackberries, Palms, etc.
MS Outlook Compatible - Outlook compatibility for shared calendar, tasks and contacts.
To contact us and set up a Free 30 Day Trial please call us at 866-660-422 or you can email us odds@emailsorting.com