E-Mail Sorting Solutions is a full service anti-spam filter and anti-virus e-mail solution.
Put an End to viruses now and stop spam!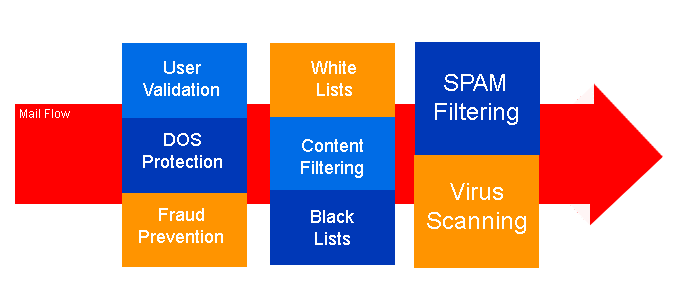 click a box above to learn more
Nine-layer perimeter defense to block spam and email-borne threats from jeopardizing networks and consuming resources
Powerful anti-spam filter to stop spam and get the most precise filtering and unmatched false-positive protection
Secure Web-based user console facilitates user based control, monitoring and Releasing of quarantined messages
Secure Web-Based administrator console for domain wide control over user privileges and domain wide white and black lists
User based white-list and black-lists for individual control of E-Mail filtering
Automatic reports for daily summary of anti spam filter activity
Ultra-Secure Mailbox feature lets users receive emails from white listed senders only and E-Mail from all other senders
Auto E-mail spooling saves E-Mail in the event of customer based network issues
Industry-leading performance delivers an unbeatable 99.9% false-positive protection and 98.2% catch rate
Inbound and outbound scanning fortifies corporate security policies, strengthens user trust
Sign up NOW for a 30-day risk-free trial!